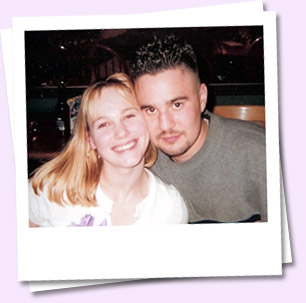 Welcome to Tim and Christy's web page - the site dedicated to the union of Tim Kerns and Christy Sullivan to take place on Saturday, July 29, 2006. Both Tim and Christy are graduates of Richard Montgomery High School in Rockville, MD. Tim graduated in 1997 and Christy in 1999. They also grew up in the same area of Twinbrook - right down the street from each other - but didn't actually meet until the fall of 2001.
Tim and Christy were introduced at a local karaoke bar in Twinbrook called JJ's Grill. They often hung out there with mutual friends after softball games and to sing karaoke. About eight months later, Tim and Christy became an "official" couple and went on to get engaged on the beautiful island of St. Thomas in February of 2005. Now, they are ready to share their love and friendship with all of their family and friends on Saturday, July 29, 2006 at the gorgeous Herrington On The Bay in Rose Haven, MD.
On this web page, you will be able to view the wedding party, directions, find hotel information, registry information, and more. Enjoy browsing the site and we hope to see you on July 29th.
Much Love,
Christy and Tim